I do not know why this picture is so big, nor do I know how to correct it. I am not too familiar with Photobucket. :)
I am here and I am well. Thanks to all that took the time to inquire and check on me. Things have been busy and just moving right on around here.
I flat missed posting Caroline dressed for Halloween and then came Thanksgiving and a blessed day that was. Our oldest son and his family did not make it in, but they will be here for Christmas.
Jerrell's mom is getting so much worse, I don't even know what to say. The doctor did tell Jerrell last week that she did have Alzheimer's disease and soon she will have to come stay with us. She has always been such an independant person that she just refuses to come right now. She does not want to impose on us and says she wants to go to a nursing home which makes no sense at all to me.
Stephanie, David and Caroline spent the week of Thanksgiving at Disney World. On Saturday before they left on Monday, they came by to see us. It was our first time meeting David and he is all that I expected him to be. A wonderful young man and just as nice as can be. Very, very tall and slim. We were so pleased to have him in our home and get to meet Caroline's dad. They are a precious, happy family. I am inserting one picture of them at Disney World. Caroline is growing sooooo much.
Here are my girls at Disney World...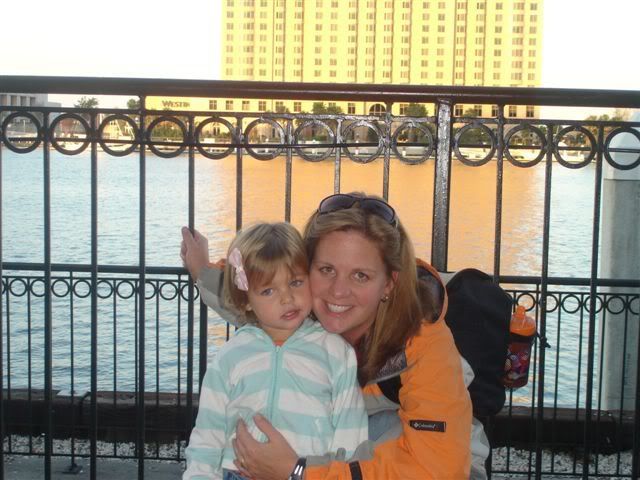 I have not, nor will I be able to blog as often as I would like. I can only do that or stop the blog entirely and I really do not want to do that. I do still read all my regular blogs and miss blogging, but my health and other things have taken me away from blogging and until things change-- a post here and there will have to suffice.
I am looking forward to having our oldest son and family home for Christmas since it has been two years since they have been here for Christmas. At other times, just not for Christmas.
Again, thanks those that emailed or commented as to my well being. I appreciate you all.
God Bless!