I have so much to tell since I have taken a blog break that I will just have to pick up where I am now. I do have many new pictures but of course cannot post them all. I really want to figure out how to make the pictures smaller, yet viewable.
My overall health and not feeling well is and was my main reason for not posting. Many times I would come and sit down and draw a blank as I am sure many of you have, so I just decided to leave it for a while- which I did. It is certainly not that I am too busy some days or that nothing is going on in my life, exactly the opposite. We are much busier with Jerrell having retired the first of February and he has been such a help and a blessing to me. He has stuck with me for 40 years and I can truly say we are closer in our older age than ever before it seems. I try so hard not to take him for granted and thank him for all he does for me and always let him know I appreciate him.
I sometimes neglect to share my oldest son, Kevin and his family with you all and because of his job I have to be careful not to mention names, work places, etc. His name is on the internet only in professional and work related articles, book and journal entries, etc. However, I can share some things. They both do extensive travel, both in the US and other countries. They recently spent spring break in Puerto Rico, along with my daughter in law's parents. I am posting a few pictures as it is a beautiful place. They have asked and tried to get Jerrell and I to go on a cruise or visit some place, but neither of us feel like our health will permit it. Also, Jerrell just refuses to fly again and riding is one thing that I just cannot do, therefore we are even unable to vist them in Ohio.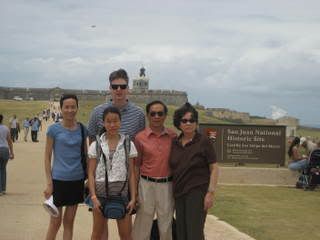 This is my son, daughter in law, step granddaughter and my daughter in law's parents in San Juan.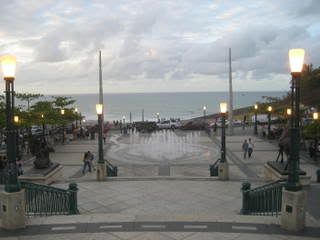 This is a beautiful view of El Morro with the ocean in the background.
Speaking of pictures, somehow I found a way to break my camera. I cannot get the screen up that is "to take pictures". I think it is too complicated for me and in trying to fix it, I clicked on just too many options. I have my camera phone that my neighbor gave me a cord to use to upload them from the phone to the pc and she also loaned me the software to download to make it possible. I have decided I am just not a good picture taker. Our azaleas are just beautiful so I went outside and took a picture and had my finger over half of the "eye" and therefore only had half a picture. I will practice some more. :)
I have got to get dressed and Jerrell and I have to go to the grocery store, so I will stop for now.
I hope you all have a great day and I hope it is a pretty day where you all are as it is here today!
God Bless!